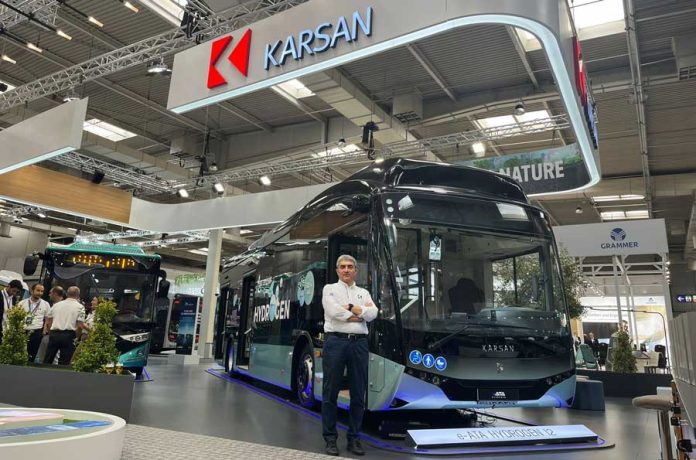 Karsan, which plays a pioneering role in the electrification of transportation infrastructure in Europe after Turkey, continues to be rewarded thanks to its successful practices and high-tech production power. Increasing its production capacity day by day with the vision of being "One Step Ahead in the Future of Mobility", Karsan this year received an award at Stevie Awards, one of the leading award programs in the business world as it did last year, and attracted attention.
We filled a gap in the market
At the Stevie Awards held for the 20th time this year, Karsan was deemed worthy of the Bronze Stevie Award with e-ATA HYDROGEN in the transportation branch of the Product&Service category this year. The award received thanks to hydrogen-fuel e-ATA HYDROGEN from the Stevie Awards, one of the world's leading business awards held since 2002, is an important result of Karsan's recent technology investments.
Stating that they started to produce 100% electric vehicles with e-JEST five years ago with the vision of being "One Step Ahead in the Future of Mobility", Karsan CEO Okan Baş said, "After this step, we completed our electric product range by adding our e-ATAK and 10-12-18 meter e-ATA models in a short time. These vehicles continue to grow fast in their segments in Europe. In addition, we managed to fill a significant gap in the market, adding a hydrogen fuel option to our e-ATA model. This prestigious award our e-ATA HYDROGEN model has received has made us proud."
We're also pioneering the transition to hydrogen
Emphasizing that hydrogen fuel cell vehicles are a very new technology in public transport, Okan Baş pointed out: "2% of the urban bus market in Europe currently has hydrogen technology. However, for a sustainable future, hydrogen fuel cell electric vehicles will grow even more in the public transport market in the coming years, just like battery electric vehicles. We, as Karsan, also aim to lead the transition to hydrogen in urban transport in this market."
Filling can be done in 7 minutes
The low-floor 12-meter e-ATA HYDROGEN can meet the needs of operators in many areas, from long-range to high passenger carrying capacity. e-ATA Hydrogen, which has a 1,560-liter lightweight composite hydrogen tank located on the ceiling, reaches a range of over 500 km under normal use conditions, in other words, when the vehicle is full of passengers and on the stop-and-go line route. e-ATA HYDROGEN, which has the best range in its class, can easily carry more than 95 passengers depending on maximum laden weight and preferred optional features. The vehicle, which has a cutting-edge 70 kW fuel cell, can be filled with hydrogen in less than 7 minutes.