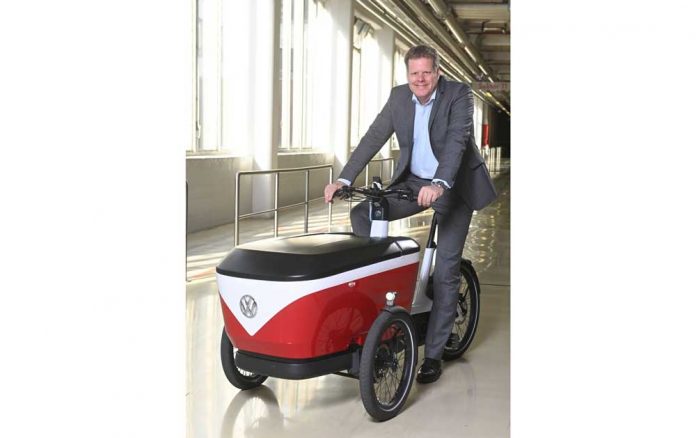 Volkswagen Commercial Vehicles is participating as part of the global 'Earth Day' in the Groupwide climate campaign #Project1Hour. Employees will spend an hour, exclusively and in addition to ongoing projects, jointly looking at the issue of climate protection, discussing their personal experiences and developing concrete ideas for improvement.
Carsten Intra, Chairman of the VWCV Board of Management explains: "At Volkswagen Commercial Vehicles we have a clear goal: With our products and services we want to provide an environmentally friendlier and a more resourceefficient mobility. This is our path to a "zero-emission" future, by the way not only for our vehicles, but also in terms of production. This path can only be successful if everyone participates. Each and everyone of us is required to reconsider our own mobility behaviour. Climate-neutral micromobility and multimodal solutions are important levers. This is exemplified by our Cargo e-Bike. Developed and produced by VWCV in Hanover, the Cargo e-Bike will be on the market later this year.
During the #Project1Hour, employees will participate in a creative, open workshop, busying themselves with their own contributions on the subject of climate protection. The workshop will provide the opportunity to use a quiz to check your own knowledge of climate change and to find out their own CO2 footprint. In the discussion, ideas to reduce the personal footprint can be developed and measures for specific action can be developed – both in their private lives and in the working environment. "Today, all 660,000 employees in the Volkswagen Group are invited to discuss these topics within the #Project1Hour. My wish and request to all colleagues at VWCV: Talk about your own experiences in your teams and share your insights," adds Intra.
Bertina Murkovic, Chair of the VWCV Works Council: "The fact that Volkswagen is participating in this year's Earth Day with its own initiative is something that I find very good! It is a powerful sign to have 660,000 VW colleagues around the world developing and implementing ideas to strengthen climate protection. We as the Works Council of Volkswagen Commercial Vehicles will naturally be fully involved and will run the #Project1Hour project with our colleagues. In order to restrict global warming to appreciably under 2°C requires an enormous effort. On the one hand the political sector needs to set ambitious guidelines. And on the other, we need companies that develop products and services fit for the future. We at VWCV are moving in the right direction here with MOIA. All in all, we should build in this endeavour on something that has already frequently led us to our goal in the past: solidarity! I wish all colleagues a successful event and lots of good climate protection ideas!"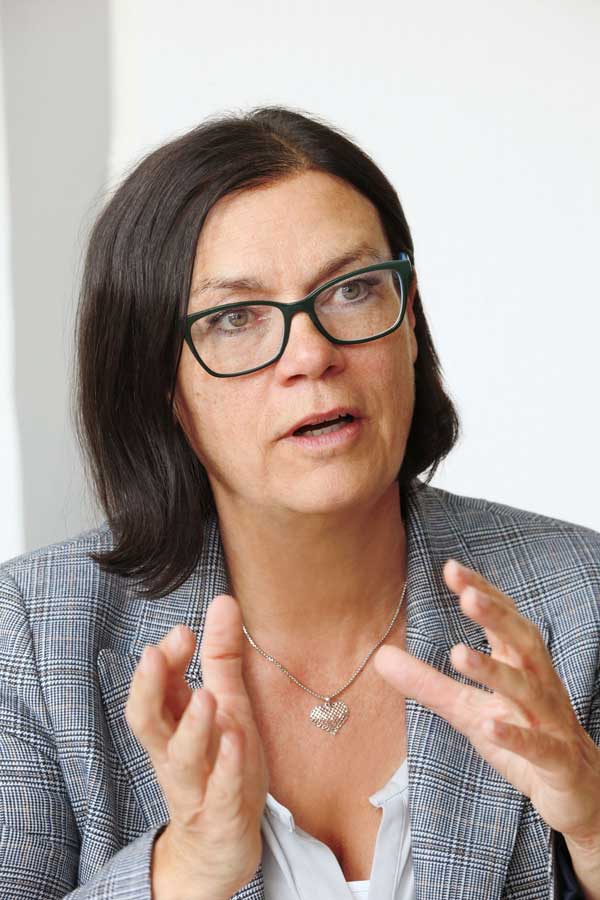 The Volkswagen Group has clearly committed itself to the Paris Climate Agreement. The company aims to have a carbon-neutral footprint by 2050. Volkswagen Commercial Vehicles has also firmly anchored the sustainability targets within its own strategy. The focus in this regard is for the one part on the electrification of the fleet, including with the new Multivan as a plug- hybrid and the fully electric ID. BUZZ next year. In addition, VWCV is aiming by 2025 to have reduced the environmental impact in the production process by in all 50% compared to 2010. This includes, for instance, less use of energy, water and solvents and reducing waste and CO2 emissions.
The first Earth Day was in 1970 in the USA, and it is now marked each year on 22 April. Since its introduction over 50 years ago, it has developed into a global mass environmental movement. Even on the first Earth Day there were already 20 million people taking part. Now it is over 200 million. The global day of action stands for diverse initiatives on all aspects of the broad spectrum of environmental and climate protection and for a commitment to jointly creating solutions for climate and environment that will serve the earth's future well. The slogan for this year's Earth Day is 'Restore our earth'.
Volkswagen Commercial Vehicles: We Transport Success, Freedom and Future
As a leading manufacturer of light commercial vehicles, the Volkswagen Commercial Vehicles brand (VWCV) is reshaping the transportation of goods, services and people in a fundamental and lasting way. Their vehicles transport construction workers, families and adventurers, bread rolls, parcels and surfboards. Every day they help countless people all over the world to do a good job, they operate as mobile workshops and they bring paramedics and police personnel to wherever they are needed.
At sites in Hannover (D), Poznań (PL), Września (PL) and Pacheco (ARG), around 24,000 employees produce the Transporter, Caddy, Crafter and Amarok model lines, and, as of 2022, will be producing the ID. BUZZ – the fully electric version of the iconic Bulli. Within the Volkswagen Group, VWCV is also the lead brand for autonomous driving and for mobility offerings such as Mobility-as-a- Service and Transport-as-a-Service – areas in which we are shaping the future of mobility.
In this way, the brand is transporting the society of tomorrow with all its requirements for clean, intelligent and sustainable mobility. It is this that Volkswagen Commercial Vehicles stands for with its brand promise: We transport success, freedom and future.