Munro Vehicles (Munro), a manufacturer of all-electric 4x4s and Scotland's only volume production car company received a visit from Secretary of State for Transport Mark Harper as part of his Scottish tour of innovative transport manufacturers.
Transport Secretary Mark Harper said: "UK manufacturing and innovation is at the heart of our plans to decarbonise transport. It was really encouraging to see the work Munro Vehicles is doing to decarbonise off-road vehicles, helping grow the economy by creating hundreds of skilled jobs."
Munro Co-Founder and Head of Technology Ross Anderson said: "The team and I are proud to showcase the engineering and passion behind the creation of these all-terrain electric vehicles. As a small team we've been making strides to begin manufacturing sustainable transport within Scotland."
The initial two Munro MK_1 customer vehicles, hand-assembled at the brand's East Kilbride headquarters in Scotland, are Founder Editions. The first vehicle, a black Truck, is being built to Munro's Range specification, equipped with 220kW of power and 600Nm of torque. This Truck offers an estimated 190-mile range and has a braked towing capacity of 2.5 tonnes. The second vehicle is a gloss-white Pick-Up, constructed in the ultimate Performance guise. It features a 280kW battery, 700Nm of torque, a 3.5-tonne towing capacity, and an estimated range of 190 miles.
The Munro MK_1 is a groundbreaking electric-powered, four-wheel-drive workhorse that seamlessly integrates the rugged reliability and repairability of a full-time 4×4 mechanical drivetrain with an advanced electric powertrain, resulting in zero tailpipe emissions.
Central to the Munro MK_1's capabilities is its adeptness in handling diverse weather and terrains, providing uncompromising performance. The spacious rear bed accommodates a 1050kg Euro Pallet payload, while the Performance model boasts a maximum braked towing capacity of 3,500kg, making it ideal for transporting farm equipment, livestock, construction machinery, and disaster relief supplies.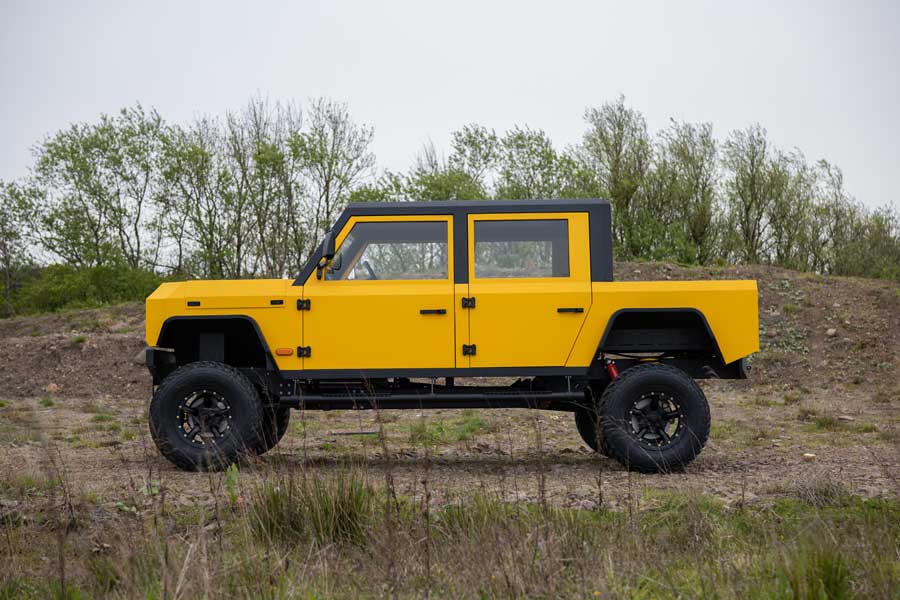 With an impressive peak power output of 375kW and 700Nm of torque, the Munro MK_1 can accelerate to 60mph in just 4.9 seconds. It features a 220KW electric motor and offers Utility, Performance, and Range variants to cater to diverse needs and preferences.
Equipped with an 82.4kWh battery, the Munro MK_1 can rapidly recharge from 15% to 80% battery capacity in just 36 minutes using a 100kW DC charger. A fully charged battery provides a range exceeding 190 miles, enabling up to 16 hours of off-road operation on a single charge.
Designed, engineered, and proudly manufactured in Great Britain, the Munro holds historical significance as the first light vehicle to enter production in Scotland in over four decades.
The enthusiastic response from both media and customers who have test-driven the MK_1 Truck underscores its appeal, with similar excitement surrounding the new MK_1 Pick-Up. The reception of over 250 pre-orders for both the Truck and Pick-Up models reaffirms the market demand for Munro's vehicles, particularly in sectors like mining, construction, utilities, agriculture, and defence, where innovative solutions are necessary to meet decarbonisation goals.
Backed by financial partners, Munro is poised to capitalise on substantial global market opportunities as the company approaches the completion of its initial two production models. With a steadfast commitment to innovation and a clean-sheet design approach, the Munro MK_1 holds the potential to revolutionise the electric workhorse vehicles.