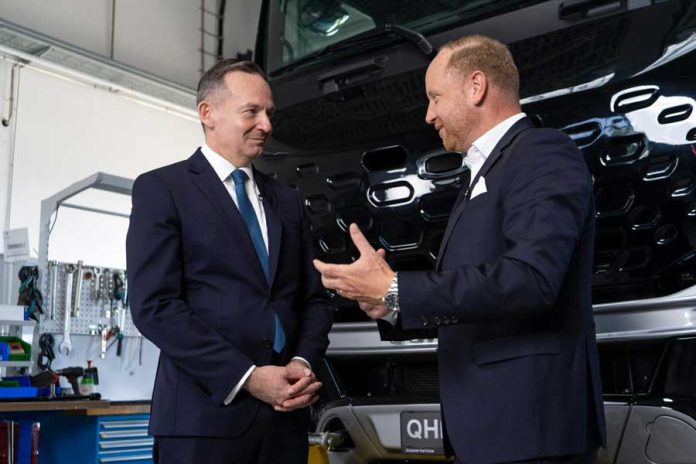 On July 11, 2023, the German Federal Minister for Digital Affairs and Transportation, Dr. Volker Wissing, visited Quantron AG together with the Member of the German Bundestag, Maximilian Funke-Kaiser, and the CEO of Hydrogen Europe, Jorgo Chatzimarkakis. The clean tech company, specialized in alternative propulsion technologies to decarbonize transportation, demonstrated its technology expertise in zero-emission commercial vehicles.
The visit was hosted by the Founder and Executive Chairman of Quantron AG, Andreas Haller, CEO Michael Perschke and CTO René Wollmann at the company's headquarters in Gersthofen near Augsburg. Together they discussed the future of mobility as well as the challenges in the ramp-up of sustainable and zero-emission mobility.
Dr. Volker Wissing welcomes QUANTRON's technology-open approach, which includes both battery and hydrogen-electric drives and thus offers the broadest portfolio of environmentally friendly mobility solutions currently available: "The courage, the willingness of the company to invest and the broad product range – that is a great achievement and shows once again the strength of German businesses. While others only focus on the large corporations, the medium sized businesses demonstrate to be very flexible and also make offers in smaller markets that large ones can't make in this way."
A special highlight of the visit was a test drive with the all-electric truck QUANTRON QHM BEV truck with a range of up to 350km.
In addition, QUANTRON offers hydrogen-electric vehicles that are already available today. Dr. Volker Wissing sees them as a special opportunity for freight transport. He explained: "Hydrogen can provide answers in the commercial vehicle sector, for example when it comes to ranges and also to solving the weight problem. We must not have commercial vehicles that are so heavy that they can hardly transport goods. The purpose of freight transport is to move goods, and freight transport will increase enormously in the coming years. We expect a significant increase, and we also need this increase to see our economy grow. We need economic growth and climate neutrality at the same time, and the best way to reconcile these two things is with hydrogen technology. That's why I'm delighted we have such innovative companies like QUANTRON."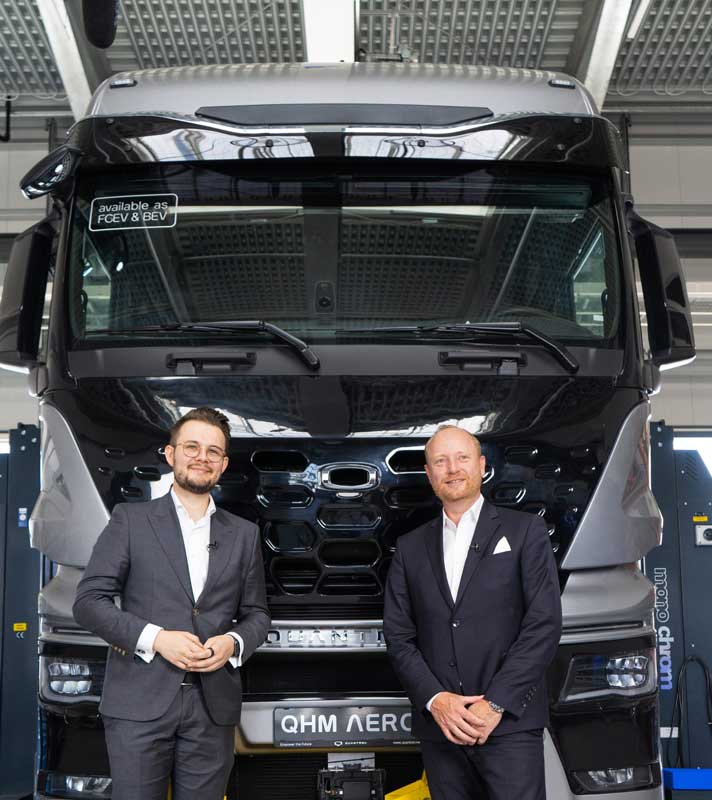 The ROQIT joint venture between QUANTRON and the Indian business intelligence and IT company Goldstone Technologies Limited (GLT) was also presented during the visit. This innovative project aims to build a digital transaction platform for the unique Quantron-as-a-Service ecosystem. The OEM-independent platform will consist of five digital pillars, including Data Insights, to enable sustainable and efficient fleet operations.
Maximilian Funke-Kaiser, member of the German Bundestag, expressed his enthusiasm after the visit: "I am very proud that we have a company like this here in Augsburg, because it brings together exactly the current tasks and challenges that we have. The pioneering spirit here is absolute and shows that Germany can achieve this – that we don't always have to talk ourselves down, but that we have really innovative people who also have the courage to take this step."
Jorgo Chatzimarkakis added: "We are currently experiencing a process in which we will become completely dependent on China in terms of mobility if we continue to concentrate on one technology. There are indeed many voices in politics that say we have to put all of our eggs in one basket because that would accelerate the run-up. The opposite is the case. Our goal is decarbonization. We have to shorten the decarbonization time, and that can only be done with multiple technologies. We need technology diversity. And QUANTRON actually stands for a diverse concept, for an inclusive offer in terms of technologies, and in this respect it is about accelerating this decarbonization. There are many levers to be tightened here, because there are still prejudices against hydrogen in public opinion, but also in Berlin and especially in Brussels, which can still be dispelled. In this respect, Minister Wissing's visit today was indeed a 'QUANTRON leap'."
Andreas Haller, founder and executive chairman of Quantron AG, thanks the guests for their visit: "We are very pleased to welcome Dr. Wissing, Mr. Funke-Kaiser and Mr. Chatzimarkakis with us today. Their visit underlines the importance and global potential of QUANTRON's sustainable mobility technologies for the decarbonization of passenger and freight transport. We believe in technology diversity and we want to contribute to a better future by having the courage to break new ground."