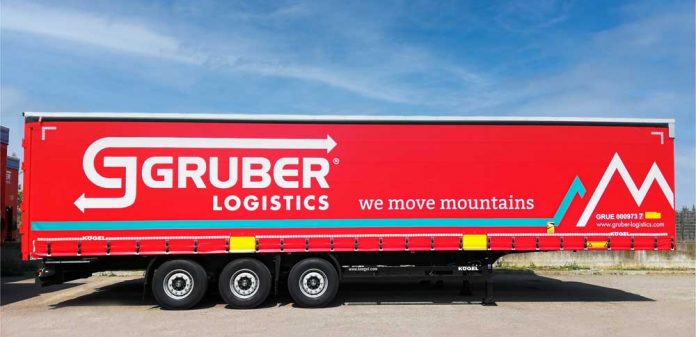 Vehicles that can be used intermodally enable each means of transport to realise its full potential. With the Kögel Cargo Coil Rail, logistics service provider Gruber Logistics is utilising this advantage to implement its ambitious sustainability strategy in combined transport. Gruber Logistics also relies on the volume specialist Kögel Mega of the NOVUM generation.
The logistics and transport service provider Gruber Logistics takes social and ecological responsibility seriously. According to its own understanding, this includes taking care of people and the environment in equal measure. An innovative and environmentally friendly vehicle fleet is a key element in the sustainability strategy of the company headquartered in Ora near Bolzano (South Tyrol). Besides 500 Euro 6 tractor units – around 100 of which are operated in a climate-neutral manner with bio-LNG – there are more than 1,000 towed units in use. Many of these are equipped for use in combined transport, which Gruber Logistics regards as the basis for environmentally friendly goods distribution. Gruber Logistics already organises 20 percent of all loads intermodally. The target is a share of 40 percent – to be reached within two years. "We can only achieve this with the appropriate transport equipment," states Stefan Knapp, Head of International Fleet.
Gruber Logistics has now procured these from Kögel. The transport service provider has purchased 60 units of the Cargo Coil Rail series of the NOVUM generation from the traditional manufacturer from Burtenbach. The trailers, which are configured for combined transport, combine economy and ecology entirely in the interests of the customer and fully in line with Kögel's corporate motto 'Economy meets Ecology – Because we care'. They will be crucial in helping Gruber Logistics to achieve its ambitious sustainability goals.
Kögel Cargo Coil Rail Trailers are true multi-talents in intermodal freight transport. They offer all the advantages of the NOVUM vehicle generation. These include a high level of customisation, extensive standard equipment and a low tare weight. The vehicle is also ideally suited for transporting with high point loads – thanks to the equipment for coil transportation. Load weights of up to 30 tonnes may be applied to 1.5 metres. Gruber uses a coil trough with a length of 7,200 millimetres for coils from 900 to 2,100 millimetres in diameter. A version with a length of 9,000 millimetres is also available as an option.
The logistics service provider has also received 20 Kögel Mega of the NOVUM generation. Despite an interior height of three metres, the Mega perfect height maintains the permissible overall height of four metres with a fifth wheel height of 910 millimetres – making it a real volume specialist from Kögel. To optimise the height, the Kögel designers have opted for an intelligent combination of tyre selection and a reduction of the fifth wheel neck from 90 to 55 millimetres – while retaining the same stability! High payloads are guaranteed with a tare weight from 6.4 tonnes and thus stand for optimised economic efficiency. Loading and unloading three stacked box pallets is easy thanks to the mechanical-hydraulic lifting roof – this part of the standard equipment.
"As fleet managers, it's our task to offer our clients the most advanced transport solutions. Trailers like those manufactured by Kögel fulfil this requirement," explains Stefan Knapp. "Intermodality is part of our green strategy, along with the use of alternative fuels. The combination of both achieves excellent results!" declares advisory board member Martin Neese.
Gruber Logistics is one of the first transport companies in Europe to have organised completely CO2-neutral multimodal transport. What is more, the company recently launched climate-neutral freight transports over the Brenner Pass for its customers using bio-LNG trucks – putting it into a leading position in the sustainable transport of goods. In the course of these new service options, the innovative trailers from Kögel perfectly support the growth ambitions of Gruber Logistics. Further new acquisitions for the haulage fleet are already being planned.